unser Hotel / our hotel "Sindbad Beach Resort"
Hier findet ihr einige Eindrücke über unser Hotel, das meiner Meinung nach zwar nicht überwältigend,
aber dem Preis - Leistungsverhältnis nach OK war. (Insgesamt verstehe ich die ägyptische Preispolitik
leider nicht wirklich. Die Touristen sollen wiederkommen, aber die Reisepreise sind doch recht hoch)
Das Personal war überwiegend freundlich & hilfsbereit, das Zimmer zwar nicht "klinisch" rein aber
sauber, das Essen gut & ausreichend (es gab sogar jeden Tag auch ägyptische Speisen) und die Anlage
weitläufig & gepflegt. (Das "Sindbad Beach" und das "Sindbad Aqua Park" auf der anderen Straßenseite
gehören zusammen und man kann auch dort alle Einrichtungen und Restaurants nutzen.)
Here you can find some impressions of our hotel, in my opinion, though not overwhelming,but the
price - performance ratio was OK. (Overall, I do not really understand the Egyptian price policy. They
want the tourists to come back, but the prices are quite high.)
The staff was friendly & helpful, the room not "clinically" pure but clean, the food was good & sufficient
(there even was Egyptian food every day) and the hotel complex was spacious & well maintained. (The
"Sindbad Beach" and "Sindbad Aqua Park" on the other side of the street belong together and guests can
use all facilities and restaurants of both hotels.)
der Strand / the beach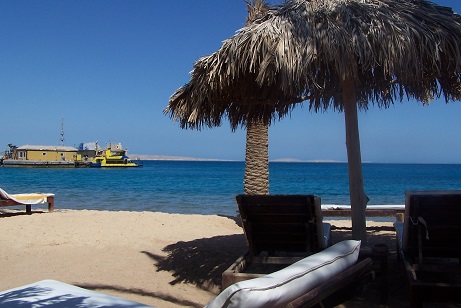 Ich finde, die Bilder sprechen für sich. I think, the Pictures tell their own tale.
Sonnenaufgang am "Roten Meer" / Sunrise over the "Red Sea"
die Hotelanlage / the hotel complex
der Garten / the garden
die Hotelzufahrt / the access road to the Hotel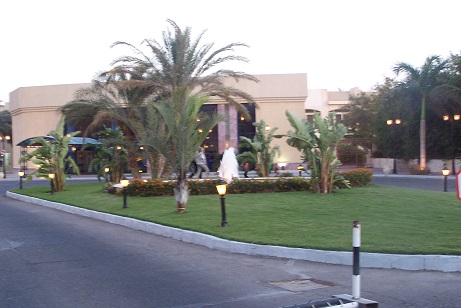 Shisha-Bar & Ladenstrasse / Shisha-bar & Shopping center
der Pool / the pool
bei Nacht / at night-time
und noch mal welche bei Sonnenschein / and again some at sun-shine time